Geography Iceland Adventure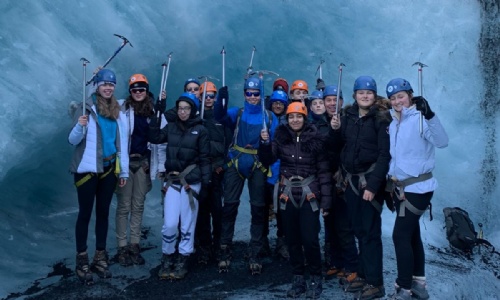 Over Michaelmas half-term 52 Hill House geographers from Y10 -U6 took part in the inaugural geography department adventure to Iceland – the land of ice and fire!
Head of Geography, Mr Green has written this fantastic summary of the group's activities!
"With an action packed itinerary it proved to be an epic adventure that created lifelong memories for all involved. Pupils were amazed by the force, magnitude and wonder of the natural world at every turn. We were able to explore the force of water by visiting the hugely impressive Gulfoss and Skogafoss waterfalls and walked behind the mighty Seljalandsfoss, all of which are fed by the glacial meltwater that is so abundant in the country. Walking through lava tubes that allowed us to follow the path of historic lava flows, ascending and walking along the glaciers of Iceland and watching the Strokkur geyser erupt were amazing experiences that were enjoyed by all.
"After walking along the Mid-Atlantic Ridge we enjoyed the opportunity to learn about Iceland's formation from a leading geologist in Iceland's LAVA centre. We then visited one of Iceland's largest geothermal plants to learn about how they were harnessing the sustainable energy from the Earth's internal heat to power 85% of the homes in the country. Our visit to the site of the 2021 Fagradalsfjall eruption was a geographers dream as we were able to see the most recent lava fields in the country, an incredible sight!
"Pupils enjoyed immersing themselves in the hugely important cultural use of geothermal outdoor swimming in Iceland, best described as the country's 'social meeting place'. Here they braved the ice baths and slides before enjoying the hot tubs and geothermally heated pools. We also were well and truly pampered in the Blue Lagoon (one of the 25 wonders of the world) on our final afternoon when we had some very well deserved R&R time! Working out who was who behind the silica masks that we treated ourselves to sometimes proved a little difficult as darkness fell at the end of the day!
"To cap a truly remarkable trip we were incredibly lucky to score a hat trick of evenings where were able to watch the Northern Lights light up the skies. This was phenomenal to watch as the colours and bands of light moved across the skyline! The amazement and excitement of all was a joy to be involved in! We were very blessed to be able to see Iceland in all its splendour and our adventure has left many, many memories with us all. One word consistently comes up when pupils talk about their adventures – EPIC! A large part of this was shaped by the camaraderie, humour and excellent company of all our pupils and staff which made this an amazing experience for all of us involved in it."