Competitive Hockey is back on the Agenda at Hill House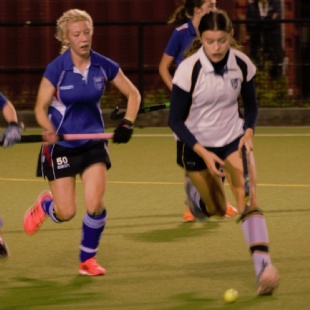 The girls of Hill House were delighted to lead the way with the return of competitive school hockey in Yorkshire this week, launching the first school fixture for 6 months.
Travelling to play Rotherham Hockey Club's Ladies 1st XI in front of a large and appreciative crowd, the girls started brightly but fell behind to an early goal, a fierce shot which just beat goalkeeper Charlotte Westmoreland-Smith at her near post. The Hill House girls responded with a precisely converted penalty corner, with Eleanor Kidney and Sophie Parkinson combining for an equalizer just before half time. A period of sustained pressure early in the second half saw Kidney dribble through the Rotherham defence before beating the keeper. As understandable fatigue set in, Rotherham attacked consistently, but Westmoreland Smith, Eve Bishop and Faith Martin-Porter stood resolute in defence, before a superb end to end run by Parkinson was drilled home with a great finish by Evie Sprenger, leaving the Hill House girls winners 3-1 in a great game.
Director of Sport Katie Barnes was delighted with the game, saying 'it was wonderful to get this game on, and many thanks to Rotherham for playing. The Hockey Association COVID protocols are very sensible, and allowed a full and competitive game with all players, coaches and parents feeling very safe. The girls, who haven't played a match for 6 months, were magnificent and did us proud – to beat a ladies club 1st XI is no mean feat. We look forward to leading the way further for school hockey in the North East with more fixtures shortly for various age groups. Well done girls!'