Castle Park plays host to classic derby match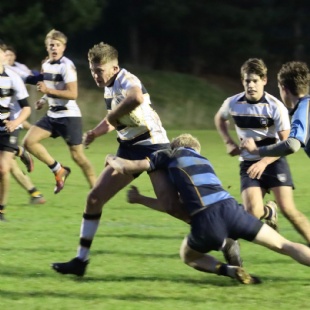 One of the oldest derby matches in the school rugby calendar was played under the floodlights at Castle Park this week, as Doncaster Knights hosted the Under 16 Yorkshire Cup tie between Doncaster's Hill House School and Sheffield's Mount St.Mary's College.
Played in cold and wet conditions, the match was a classic encounter with all the passion and effort associated with derby matches. Despite early Hill House pressure, a long clearance from the Mount's Fly half led to a turnover and try to take them 7-0 ahead. After Isaac Sprenger crashed through the Mount defence in response, the game reached half time with the Sheffield school leading 7-5. They then extended their lead from the restart as Hill House failed to gather the ball, moving 14-5 ahead.
With Hill House remaining calm, handling well despite the cold and slowly asserting forward dominance, and with some sensational tacking by the backs, led by Henry Westmorland-Smith, the Doncaster boys began to get the upper hand; a deft chip by Flynn Love-Edwards was collected by Jonah Tucsemskyi who finished the try with outrageous skill, bringing the game back to 14-12. Powerful running by forwards Paul Mellor, Finnan Doody, Henry Jones, Nate Close and Isaac Sprenger, and a dominant performance in the line out by Spencer Butt, then proved decisive, as first Sprenger and then William Burridge crossed the line to finish the tie with a 26-14 win to Hill House.
Hill House Director of Rugby Chris Rose was delighted with his team's efforts, saying 'this was a defining performance for these boys; to come from behind in these conditions and overcome a strong Mount St.Mary's team was a tremendous result, and they can only improve from here.'
Hill House now move on to the semi-final of the Yorkshire Cup in the New Year.