Peter Wright - The Yorkshire Vet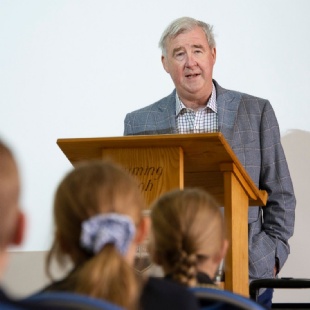 We were incredibly lucky this week to welcome Peter Wright, from Channel 5's The Yorkshire Vet for our final Robert Winston Lecture of this academic year.
Peter very kindly gave up his afternoon to deliver talks to Year 5 and Year 6, and the pupils were very excited to hear all about life as a vet and to grill Peter about his favourite animals.
Our budding vets, Grace Arnold, Daisy De Roeck Davies, Hannah Lunn and Emily Schmidt, also had the chance to spend some time with Peter, and he had some wonderful words of wisdom to share.
Parents, pupils and people beyond the Hill House community then joined us via Zoom for the main talk. Peter spoke about his journey to becoming a vet, his experience of working with James Herrington and Donald Sinclair, and his more recent work with Channel 5 on The Yorkshire Vet. Leaving us with the very important message of working hard, never giving up and living life with no regrets.
Don't worry if you missed the talk, you can watch the full video below.