The Return of Fixtures!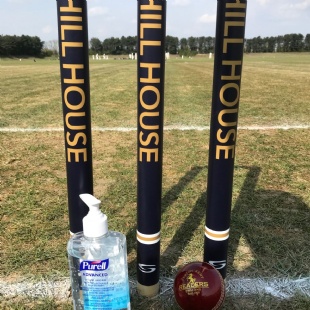 Hill House cricketers were delighted to take the field again, for the first time in almost 2 years, in a series of fixtures with Mount St.Mary's College.
With the whole of last season sadly cancelled due to COVID, it was a joy to see a large number of Year 9 and 10 pupils take to the square on Tuesday. In a COVID secure environment, it was also a chance for the Hill House girls to show what they had learned, with their first set of inter school cricket matches.
The U14 and U15 girls travelled to Spinkhill to have their first taste of competitive cricket. The A teams lost narrowly, with the Mount girls showing better awareness of the importance of good running between the wickets, but the U14B team had a particularly strong win.
The U14 and U15 boys played their games in glorious sunshine at Blaxton. The U14s were defeated in the final over, despite a fine 66 from Finan Doody. Pride of place went to the U15 XI; strong batting gave a total of 157-3, with unbeaten half centuries from Nathaniel Wilkes and Henry Holland. Good bowling and excellent fielding helped the school dismiss Mount St.Mary's for 54, meaning victory for Hill House by a very impressive 103 runs.
Well done to all for an excellent set of fixtures and many thanks to our friends from Mount St.Mary's for helping these COVID- safe fixtures take place. Happy children all round!