Founder's Day Celebrations in the Sunshine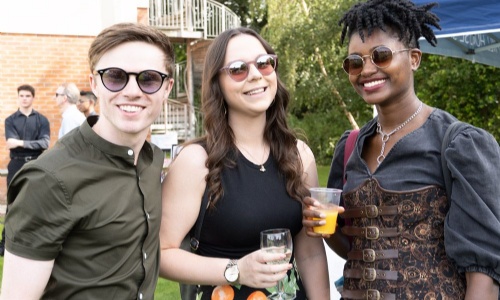 The sun was shining as we celebrated the school's annual Founder's Day this weekend. We were delighted to welcome record-breaking numbers of former pupils, staff, friends and family to celebrate our wonderful alumni community!
As is tradition, the event saw many former pupils participating in the Alumni versus 1st X1 Hockey and Cricket matches – the 1st X1 taking the title for Hockey and the Alumni team victorious in Cricket.
Whilst the crowds enjoyed a delicious hog roast, there was wonderful entertainment from current pupils including the Hill House Jazz Orchestra, Charlotte Dalby and Alpheus Rivete (both Year 11)!
For the first time in Founder's Day history, we welcomed Hill House alumni onto stage too! Former pupil, Olly Novello (Class of 2020) performed songs from his recent west-end show, 'The Verge of Forever' featuring current Upper Sixth pupil, Poppy Bazlinton who also gave attendees a taste of what was to come in this year's Whole School production, Grease, with her rendition of 'Hopelessly devoted to you'.
Performance Poet, Omole Musah-Eroje (Class of 2015) performed a selection of her works and Conor O'Hara (Class of 2015) closed the day's entertainment with a selection of songs from the stage.
Development Director, Helen O'Donoghue was delighted with the fantastic attendance, saying "What a wonderful afternoon! A great opportunity to connect with so many former pupils. Our alumni community is thriving, and I know that, with the help of our new alumni platform, the community will continue to grow year-on-year'.
Headmaster, David Holland, said "Founder's Day is a wonderful time to celebrate with our alumni, their time with Hill House School. No matter where they are now in their life, it is lovely to remember their journey with us and discover where their paths have taken them. I'm already looking forward to next year's event!"