U14s Girls' Rugby Festival Set to Continue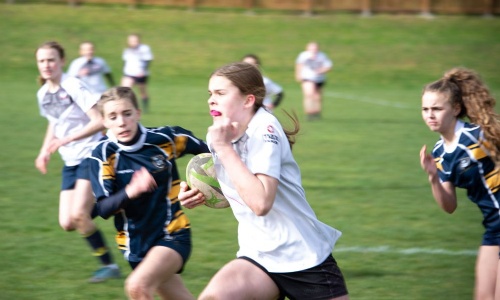 Last weekend, we hosted the very first U14 Girls' 7s Rugby Festival at our Blaxton Sports Ground.
Around 100 girls joined us for a fantastic morning of rugby with teams travelling from as far as Loughborough.
Hill House Director of Sport, Mrs Katie Vickers, said: "It was a great event, and it was wonderful to see all the teams enjoying themselves and using it as an opportunity for some great training. There was a wonderful display of sportsmanship from everyone involved, and it was an honour to welcome and host a large number of spectators."
Girls' rugby has been growing at Hill House for a number of years now, and all girls in Years 7 to 9 play the sport, including regular fixtures with clubs and schools.
After the success of this inaugural event, we are pleased to announce that next year's festival will return on Saturday 9 March 2024!