Cambridge Debating Success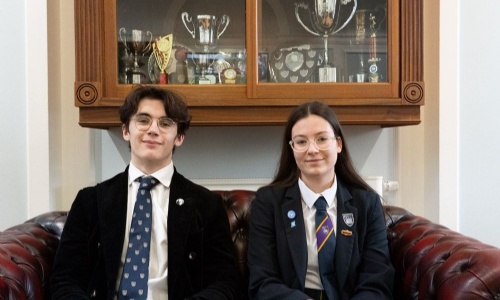 Huge congratulations to Hill House Pupils, Lexie Owens (Year 11) and James Barnsdale-Black (Lower Sixth) who have reached the finals of Cambridge Schools Debating competition!
After a successful day debating with the Hill House team on Saturday 28 January, Lexie and James will now head to the finals on the 18 March. The pair also finished equal first on individual speaker points for the whole competition, with Lexie being among the youngest entrants in the competition.
The pair were joined by a number of Hill House pupils in the competition, which included debates on tiger parenting and working with corrupt governments.
Other Hill House teams included Jon Thorpe and Layla Ducker, George O'Donoghue and Hugh Hamilton-Plumb and Sophie Powell and Samson McNulty all of whom had great round placings through the day.
Head of Senior School, Mrs Rogerson, said: "I'm incredibly proud of all the Hill House pupils who took part in the competition. They all worked very hard and performed well with some very tricky subjects. It's a great achievement for Lexie and James to be finalists."