Hill House Creative Writing Stars!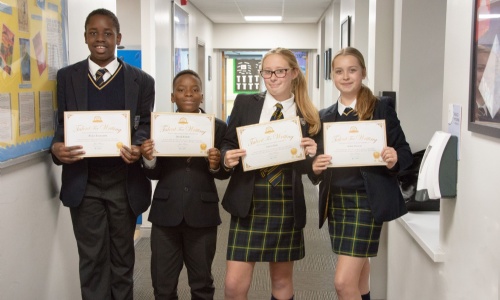 Four Hill House pupils have been selected to have their work published as part of the Young Writers Power of Poetry Competition!
Lowri Jones Y8, Avilon Pawson Y8, David Kumah Y7 and Walter Kwaramba Y9 worked on their poems as part of the Creative Writing Club and entered the competition which was titled, 'The Power of Poetry' and run by the Young Writers Association.
The competition was open to secondary school pupils in the UK aged between 11 and 18. Pupils had to submit a poem based on something they cared about. The group collectively decided on the theme of 'The Environment' which was the theme for National Poetry Day 2022 and the pupils expressed a keen interest in the topic.
The pupils worked tirelessly on their entries both in the Creative Writing Club and at home. Once they were submitted, they were sent to a panel of independent judges who decided on the best ones for publication.
Special congratulations to Walter for whom this is the second year in a row that his work has been selection for publication.
You can read the poems below!