Vocal Success at Music festival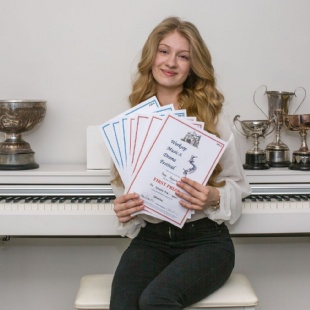 Y11 pupil, Poppy Bazlinton walked away from the Worksop Music and Drama Festival with 7 awards on Saturday, after she competed at the Vocal Day.
Having entered 7 categories, Poppy placed 1st in four of them; Vocal Solo Girls Year 13 & Under (Girls' Singing Trophy), Operatic Aria Open (Countess Manvers Trophy), Musical Theatre Show open (Sherwood Light Opera Company Trophy) and Challenge Solo Over Year 11 (Mr & Mrs Mokes Trophy).
She came 2nd in the remaining three; Lieder Open, Soprano Solo Open, Vocal Solo Musical Theatre Girls (Year 13 & under).
Hill House Head of Music, Mrs Bodman said "We are incredibly proud of Poppy at Hill House. She has a wonderful talent that she works hard to master. She is fully deserved of those awards."
Poppy will be competing in the Robin Hood Music and Drama festival at Hill House school this coming weekend (24-27 March), in the Classical Voice & Musical Theatre 16-19 years categories.