Under 15s Rugby Team crowned National Schools' Bowl Champions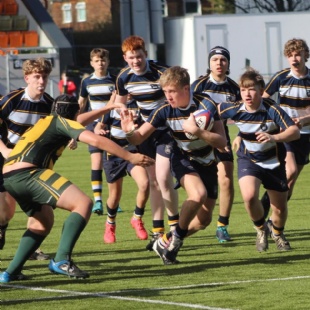 After a cup run which started in September, the Hill House Under 15 boys' rugby team were crowned national schools' Bowl Champions yesterday (15 March 2022) after a thrilling 19-12 victory over Poole Grammar School.
Playing in front of a lively crowd at Saracens' stadium in London, the Hill House boys resisted early pressure, before growing into the game and taking a 7-0 lead just before half-time as Dax Millington finished clinically after a barnstorming run by James Godfrey who broke 5 tackles to allow Millington to score. A lapse in concentration and tackling at the start of the second half allowed the Poole right wing to score a spectacular solo effort to draw the scores level. Regathering from the restart, Hill House's Theo Curtis and Henry Westmoreland-Smith combined well on the blindside to send Millington away down the right wing for a clinical finish, to take the Hill House lead to 12-7.
Poole than began to dominate territory, and after Hill House were reduced to 14 men after a penalty, the Poole forwards went over to level the scores again at 12-12. The Doncaster boys regrouped, with a ruck on the right-hand side allowing Millington to pick a delightful line to carve through the defence to secure his cup-final hat-trick and take the lead to 19-12. With a final throw of the dice, Poole responded again, and with Hill House now reduced to 13 men due to injury, the Poole forwards scored near the touch line, leaving a difficult conversion to bring the game level as the final whistle approached. With the conversion missed, and the restart secured by Hill House, the referee brought the compelling match to a close, meaning Hill House secured their first national rugby title, with captain Henry Westmoreland-Smith being presented the trophy by Geoff Simpson, President of the England Rugby Football Schools Union.
Director of Rugby at Hill House, Chris Rose was delighted with the boys' success, saying "This team has been on a tremendous journey in which we have been challenged in such a variety of ways and each time they have risen to that that has confronted them. Their development and progression as people and players has been tremendous and is something that they can all be proud of.
"Yesterday's game was the toughest of all. We played against a quality opponent who tested us and thwarted much of our usual offensive shape and this was credit to them. The resilience and toughness of our players in responding and adapting to the changing situations of the game was ultimately the difference. I would like to thank everyone involved in a day that will last in all of our memories forever"