U11 Girls Yorkshire Hockey Champions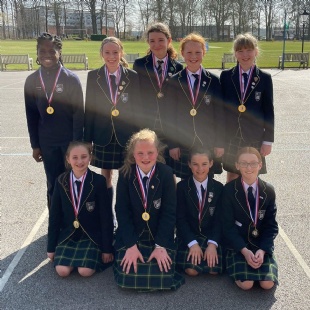 On Friday 4 March, the Hill House U11 girls competed in the Yorkshire Hockey Finals. Having already won the previous round, they were representing South Yorkshire against winners from East, West and North Yorkshire which included some very strong and big schools.
The Hill House girls had a tough group on paper, including matches against Wakefield, Hymers college, Hull and St Peter's, York. The girls had an amazing start against Hymers winning comfortably 6-0. Next up was St Peter's in a much closer affair but the girls came out on top with a 2-1 win. The final group game was against Wakefield who had had some good results in the competition so far, but the girls played superbly and stepped up another level to win 4-0.
This saw them top the group and progress through to the semi-final as winners, playing the runners-up of pool B. Leeds Grammar School were their semi-final opponents. It was another close encounter, but with some slick short corner work, the girls progressed to the final with a 2-0 win!
Having proceeded to the semi-final and placed 2nd in the other group, St Peter's were lined up to play us again in the final. With an enormous final effort, the girls played their best game of the tournament with a 3-0 win with the full team playing in the game and contributing.
Being crowned champions of Yorkshire qualified Hill House with 3 other schools to play in the North-East and Yorkshire finals, which were played on Thursday 17 March. This included Royal Grammar School, Newcastle, Dame Allan's School, Newcastle and St Peter's, York.
It was a straight semi-final as the final 4 schools in the competition from the North-East and Yorkshire and the girls fell to their first defeat against Dame Allan's, losing 2-1 in a very close game. The girls played St Peter's for 3rd/4th place in the whole of Yorkshire and the North-East and won to earn a very credible 3rd place overall.
A super run of fixtures and results. Well done to all the girls and to Mrs Naylor who coached the girls all season!