​​​​​​​Success at the Riding School National Championships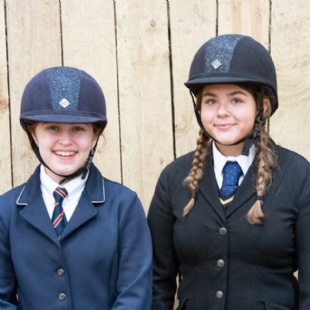 Hill House pupils, Molly Womack (Y10) and Mia Spencer-Wacinska (Y9), had great success at the recent British Horse Society (BHS) Riding School National championships.
The competition, held at Onley Grounds Equestrian Complex in Warwickshire was for non-owning horse riders only. Both Mia and Molly attend the school's Equestrian Club at Grove House where they have been able to learn from the exceptional coaching staff there and successfully qualified for the event following previous rounds at Grove House.
Riding Lily in the U17s class (dressage and show jumping) Molly was placed 9th despite horse and rider only working as a team for 6 weeks prior to the competition, demonstrating that they are clearly a partnership with immense potential.
Mia was placed 10th in the U17s class for dressage, riding Bransby Mr Todd; both of whom were competing in their first ever external competition.
Being a rescue horse from equine welfare charity, Bransby horses, and on his first trip away from Grove House in over 6 years, Mr Todd was clearly nervous but was so impeccably behaved that he was awarded a special prize for his first external competition entry.
Both Mia and Molly performed exceptionally at the competition and showed themselves to be a credit to the school.