Hill House under 16s victorious in Yorkshire Cup Final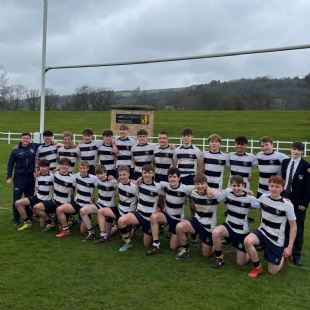 A vintage season for rugby at Hill House was completed when the school's Under 16 Rugby Team travelled to Ampleforth College in search of a Yorkshire Cup Final victory to sit alongside the Under 15s England Rugby Bowl triumph at Saracens earlier in the month.
After victories over Birkdale school and Mount St.Mary's College in previous rounds, the Doncaster boys faced Ampleforth in the final on their Dallaglio pitch in front of a lively home crowd.
The Hill House boys started brightly, moving into a 10-0 lead part way through the first half, which included the home captain being sin binned for his team's repeated infringements. Ampleforth then mounted a sustained period of spirited attacks, which the Hill House boys resisted manfully, led by inspirational captain Nate Close. Turning down the opportunity to take points from penalties, the Ampleforth boys pushed for tries before half time, but were not able to cross the line. Leading 10-0 at half time, Hill House scored 2 quick tries after the restart, including a stunning backs' try converted by the flying Jonah Tucsemskyi, which effectively settled the final. Excellent kicking by Luca Curtis and 2 further tries took the score to 32-0 to Hill House. The final quarter was spent with the Ampleforth boys working tirelessly in their desire to score some points in front of their home crowd, and the Hill House boys straining every sinew to stop them.
As the referee blew for full time, with the score still 32-0 to the Doncaster boys, Hill House collected their second major rugby trophy of the month, with captain Nate Close receiving the Yorkshire Cup on behalf of his team.
Hill House Headmaster David Holland was delighted with the boys' efforts, saying "The last 15 minutes of the game were amazing. The perseverance the Ampleforth boys showed in their desperation to score some points in a cup final on their own ground, and the resilience the Hill House boys displayed in defending their line, both of which came long after the result was clear, was as good an advert as possible for the character-building nature of rugby. Well done to all players on a super game!"