Hill House Boys brave the elements to reach national rugby final at Saracens' stadium.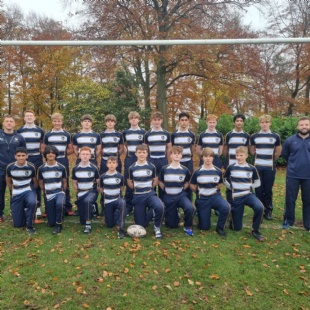 The Under 15 Rugby Team from Hill House School are celebrating this week after becoming the first Doncaster team to reach the final of the national NatWest Bowl.
A cup run, which began with local victories in the autumn, and then saw further success against schools from Bradford, Northwich and Tewkesbury, brought the boys to a semi-final at a wet and windy Castle Park against a strong Haberdashers' Boys School from North London. The Londoners started brightly, with their early pressure being rewarded with a penalty kick and a 3-0 lead. Buoyed by a large crowd, the Hill House Boys overcame their early struggles to keep hold of the wet ball, scoring a well-earned try through Dax Millington to lead 7-3 at half-time.
The fast Haberdashers' backs asked significant questions of the Hill House boys, but some excellent tackling in defence gave the Doncaster team some hard-earned field position. With full back Jonah Tuczemskyi and winger Hussain Waseem making some key last-ditch tackles on breakaways, the Hill House boys discovered, despite the tension, a certain amount fluency; a well worked backs' try was disallowed for a forward pass but was soon followed by another try from James Godfrey. With the pack asserting its dominance with some excellent work by James Godfrey, Henry Jones and Henry Westmoreland-Smith, fly half Harry Oldham maintained a perfect place-kicking display to finish the game with a penalty and a hard earned 17-3 victory.
Director of Rugby, Chris Rose was delighted with the result, saying 'I am very proud of these boys; this is a home-grown team who have been working very hard for a number of years, and they deserve their day in London. The weather meant we were not at our best with ball in hand, but our defensive tactics and tackling were spot on. We hope to bring back the Bowl to Doncaster next week!'
The Hill House boys now place the national NatWest Bowl Final at Saracens' StoneX stadium next week.