Gallery Display for Hill House Art Student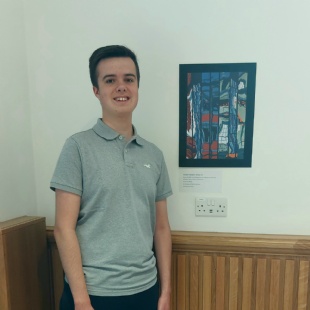 Hill House Lower Sixth Student, Oliver Neale is proud to have his artwork displayed at the new Danum Gallery, Library and Museum in Doncaster.
A hand-picked selection of 9 of Oliver's favourite pieces from his GCSE artwork portray 'Architecture and Moments of Time' and includes well-known Doncaster locations such as Doncaster Minster, Civic Office (Home of Doncaster Council) and Doncaster Mansion House.
The images will be permanently displayed in the café area of the gallery following an enquiry made by Oliver directly.
It's not the first time that Oliver has seen his work displayed so prominently as he won a competition in 2015 to design new livery for a ReFood lorry, a local food waste recycling firm.
Mrs Parkhurst, Head of Art at Hill House School, Doncaster, said; "Oliver is a talented student and this is evident in the work that he has created. He is a very motivated self-starter and I have been delighted that he has worked with the Gallery manager, who Hill House School have had a long association with, and who also is an old boy of the school, to establish this exhibition."
Oliver is currently studying Art, Maths and Geography A-levels at Hill House School and intends to study Architecture at university when he leaves.