Collaboration Between Hill House And Hayfield Produce Excellent Results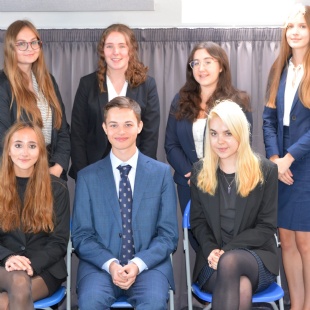 This summer saw us not only celebrating our own impressive GCSE results, but also those of our inaugural Latin GCSE programme for external pupils.
In September 2018 our Head of Classics, Ms Lindsay, introduced an initiative which enabled fifteen pupils from local secondary The Hayfield School the opportunity to attend Latin lessons twice a week at Hill House and ultimately sit their GCSEs in this subject too.
"The results achieved by these students were very pleasing" said Ms Lindsay, "it is not easy to complete a whole GCSE course with just two lessons a week, especially in a subject that they had just been introduced to, but they all displayed incredible determination and are a credit to both schools. I am also delighted to see that seven of these pupils are now studying for their A Levels at Hill House Sixth".
The results were very impressive. Anni Hodgkinson and Emma Routledge both achieved 8s while Jack Dunn, Liberty Elliott, Maisie Hodgkinson, Eila McGovern and Molly Tomlinson all received 7s.
"Latin at Hill House School was an amazing experience especially in such a positive environment," shared Molly Tomlinson.
Liberty Elliott, who plans to study medicine after her A Levels, was pleased with her decision to take Latin as a subject. "It was definitely a challenge completing Latin in two years but I am glad I stuck with it," said Liberty.
After the wonderful success of our inaugural Latin GCSE programme, Hill House are considering expanding this programme to include Ancient Greek GCSE which we hope to introduce in the near future.