1st XI Girls win the County Hockey Championships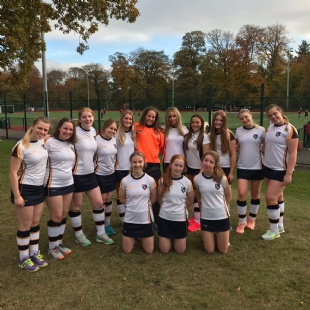 The 1st XI girls were delighted to win the Yorkshire County Championships this week in Leeds.
Starting slowly, the girls needed a last-minute goal from Isobel Holling to break the deadlock with Silocates School. Defeat followed in a lacklustre performance against Ashville College, which left the girls needing victory in a tough match with Hull Collegiate School. The girls sparked to life, and a superb finish from Felicity Taylor-Peck saw the school win 1-0 and qualify for the final.
This was a tense affair against Bradford Grammar School. Dominating the first half, with some excellent play by Faith Martin-Porter, Emily Bloomer and Niamh Doody, the girls went ahead with a well-taken goal by Jessica Rowland. Bradford equalised in the last minute, leading to the tension of a penalty shoot-out. With the Hill House girls keeping their calm, and captain Charlotte Westmoreland-Smith in brilliant form saving 3 penalties, the county title came back to Hill House yet again.
The 1st XI will now play in the North East Finals in late November, in the hope of qualifying once more for the National Finals in London.