Blockbusters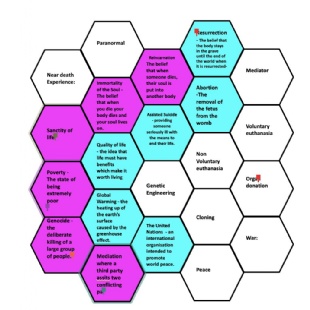 Blockbusters Retrieval Challenge: An excellent competitive game for recalling key terms or for answering questions. Thanks to @KKNTeachLearn
Blockbusters can be used in a variety of ways, either as an individual or group challenge or even as a whole class activity. Excellent competitive game for recalling key terms or for answering questions.
When using remote learning, provide each pupil with a copy of your blockbuster grid. If using the Google-Classroom, assign the google-slide using 'make a copy for each student'. In order to win, pupils simply need to correctly answer questions completing a row either horizontally or vertically.
When a pupil recognises a key term they type in the hexagon what they believe the answer to be.
Once a pupil has completed either a full row correctly they have completed the challenge.
The first pupil to complete (correctly) wins.
Differentiation / Extension:
Add a time limit for pupils to complete.
Have a mix of key terms from current and prior learning.
Ask pupils to create their own grid for others in their class to complete.
If using Google-Classroom the grid could be uploaded as 'students can edit file'. You could then have the whole class answering at the same time in teams, racing against each.
Instead of having the question or key term already written in the hexagon, the question or key terms could be written along the side allocated with letters or numbers that are allocated to each hexagon. The pupils choose the letter associated with the hexagon and then answer the question allocated to that letter. This works better for challenges involving answering longer questions.